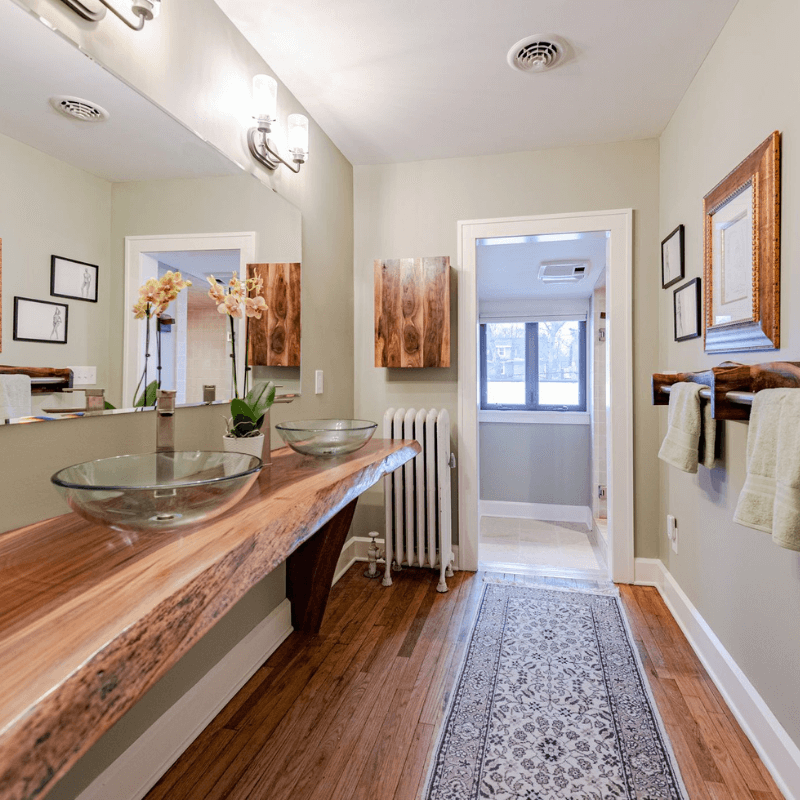 As real estate agents, we see exceptional home decor firsthand, the good, the bad, and the ugly. While home trends come and go, if you're hoping to sell a home, tasteful, up-to-date decor is the quickest way to attract the attention of buyers. In fact, the right decor may even lead to a bidding war, potentially driving the sale price of a home above market value. Read on for our favorite decor choices that we've seen attract multiple offers in 2021 so far.
Dramatic kitchens
Inspired by the modern farmhouse aesthetic, the white kitchen became the gold standard for many homeowners and house flippers who desired to recreate the crisp, sleek aesthetic of an all white kitchen punctuated with stainless steel appliances and contrasting hardware. However, the white kitchen has been gradually going out of style for a few years now, and in 2021, it's all about applying dramatic colors, distinctive accents and unique materials to create a curated kitchen space.
Fortunately, for homeowners hoping to trade in their white kitchens for something a bit more dramatic, the project should be an easy one. It only requires a touch of paint, a few new finishes and some imagination. Painted cabinetry, unique backsplash, or an accent wall go a long way to add some spice to your kitchen. Homeowners with a larger budget might also consider swapping tired granite counters for a more unconventional material, like soapstone, butcher block, or even concrete.
Live Edge Wood Accents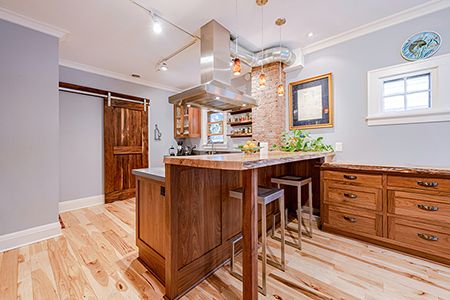 A longstanding hallmark of Scandinavian design, live edge counters, shelves, and furniture have been popping up more and more often in Northeast Ohio interiors. This versatile fixture looks equally at home with contemporary and classic decor, and can be used in almost any room of the house. Consider adding a live-edge breakfast bar, fireplace mantle, or bathroom counter to incorporate some timeless, Scandinavian style throughout your home.
Modern Wood Paneling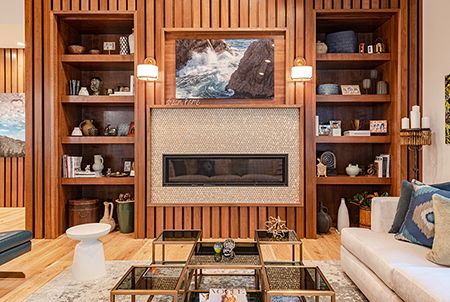 Long reviled as a sign of seventies poor decor choices, wood paneling has made a comeback in both exterior and interior design throughout the nation. However, if you're imagining the retro wood paneling from your grandpa's basement bar, you're mistaken. Today's wood paneling comes in every imaginable shape, color, and style to add warmth and dimension to any space.
Return of Wallpaper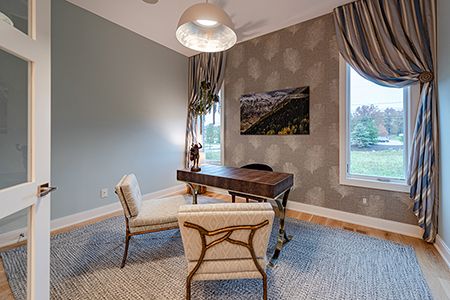 Another trend of yesteryear that fell out of fashion, wallpaper is making a comeback and can be seen adorning half bathrooms, bedrooms, and home offices across Northeast Ohio. But, this isn't your grandmother's wallpaper. Today's wallpaper is elegant, versatile, and as unique as you are! Consider a vibrant accent wall to add visual interest to any space, or, for a full room, choose a more subtle color and pattern.
About the Author
With over ten years of experience in the industry, Jen Waters is an expert in luxury real estate and new construction. She is also an experienced stager with an exceptional eye for design and detail. Looking to sell? Partner with Jen to maximize your home sale.